Auditions - Into the Woods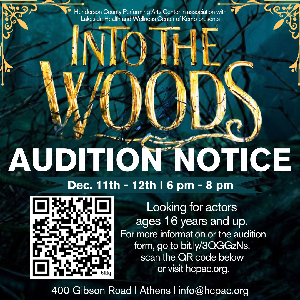 Into the Woods
Ages 16+ (large ensemble cast)
Dec 11 & 12 6:00-8:00 pm
Production dates: Feb 22-Mar 2
Directed by Sue Oates
Musical Director - Beau Humble
The story follows a Baker and his wife, who wish to have a child; Cinderella, who wishes to attend the King's Festival; and Jack, who wishes his cow would give milk. When the Baker and his wife learn that they cannot have a child because of a Witch's curse, the two set off on a journey to break the curse. Everyone's wish is granted, but the consequences of their actions return to haunt them later with disastrous results.
One of Sondheim's most popular works, Into the Woods is a musically sophisticated show with the opportunity to feature actors adept at dark comedy.
HCPAC is an inclusive and equal opportunity organization. Determined by the quality of auditions, the director will cast the best choice for each role after everyone has had an opportunity to audition. Being invited to auditions by a director does not guarantee that a person will be cast. HCPAC does not pre-cast unless announced on the audition notice. In addition, on occasion, a cast might be expanded to accommodate a large turnout of actors."
Support Your Local Theater
Our theater is made possible through the generous donations by members of the the community just like you.
Latest Articles

HCPAC is happy to announce that beginning with "A Fairytale ...


It's a new year and HCPAC has new opportunities for ...


Please help us keep your information current. We want everyone ...