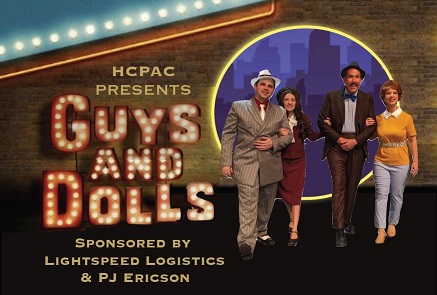 A Musical Fable of Broadway
Based on a Story and Characters of Damon Runyon
Music and Lyrics by: Book by: FRANK LOESSER JO SWERLING and ABE BURROWS
Directed by Karen Holmes - Assistant Director - Ami Hickmon
Sponsored by Lightspeed Logistics and P J Ericson
April 13, 14, 15, 20, 21, 22 @ 7:00 pm
April 15,16 and 22 at 2:00 pm
Set in Depression-era Times Square, Guys and Dolls is about a couple of big city gamblers and the women who love them. It tells the overlapping stories of high-roller Sky Masterson, who falls in love with mission worker Sarah Brown, and lovable rapscallion Nathan Detroit, engaged for 14 years to Miss Adelaide, a headliner at the Hot Box Club. Nathan runs a famous floating crap game, and an ongoing plot line involves his quest for a safe place for the game as Adelaide continues her quest to convince him to marry her. Meanwhile, Sarah, mistakenly believing that Sky set up an illegal game at the mission, tries to fight her affection for the charismatic crapshooter.
Tickets are available at hcpac.org or call us at 903-675-3908.
Support Your Local Theater
Our theater is made possible through the generous donations by members of the the community just like you.
Latest Articles

2023 Season Flex passes are on sale now.
Single FLEX pass entitles ...


It's a new year and HCPAC has new opportunities for ...





HCPAC podcast shows are still available for your listening pleasure. ...